Lock induced paranoia?
Always looking for the remote controller to open the gate? Or do you often wonder if you closed the garage doors, after leaving home?
Seal away
the fear!
Roll up garage doors remotely. Open the gates of your home remotely, while on the way back home.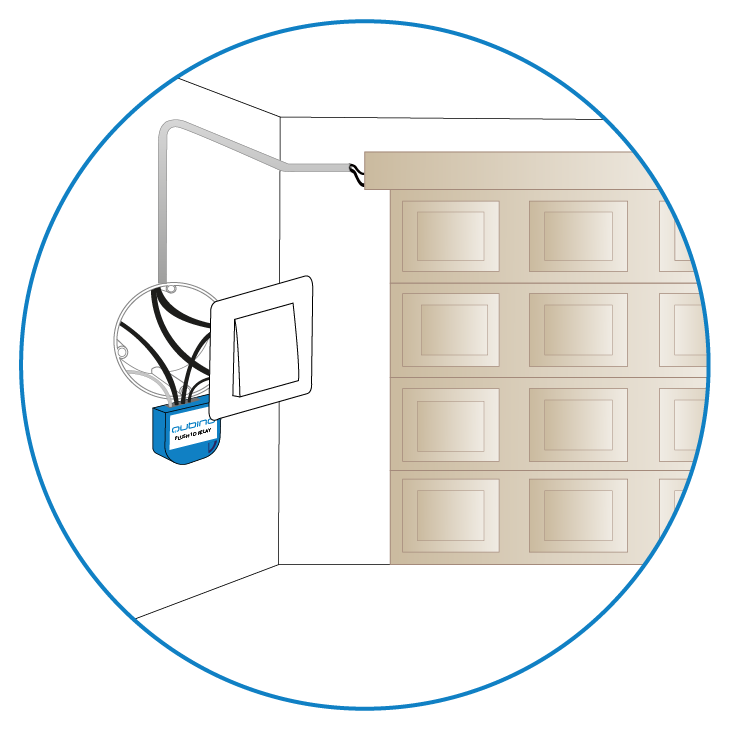 Quick and Easy installation
1. Install our Qubino Flush 1D Relay behind a garage door switch;
2. Connect a door sensor, if your garage doors have it;
3. Configure it through your Z-Wave gateway;
4. Control your garage door remotely using your smartphone.
How it works
QUBINO FLUSH 1D RELAY


REMOTELY CONTROL VIA SMARTPHONE

High compatibility with smart home systems
Click below and check out the compatibility reports for
Usage examples for Flush 1D Relay
With Qubino Flush 1D Relay you can wirelessly control your garage door, gate or entrance door of different power supply (110-240 VAC or 24 VDC). Use it to manage your gas water heater or as an intermediary that sends a PV signal to your heat pump, so it starts using photovoltaics energy and heating water to a higher temperature.
LOCK / UNLOCK

CHECK STATE OF DOOR

 SENSOR
More benefits
Do your doors have a sensor? Flush 1D Relay has an option to connect the sensor.
Have you closed the garage door after leaving your home?
From now on, simply make sure you have, by checking on your smartphone.
Safety
Qubino Flush 1D Relay cares about your home safety.
Be sure whether you've closed the garage door or gate and blocked the way into your home to intruders.
Why choose Qubino
Designed & Made in Europe

High Quality materials & components

Strict quality control during and after the manufacturing process

Each product is 100% tested and has a serial number that assures traceability

E.U. certificates: LVD (2014/35/EU), EMC (2014/30/EU), RED (2014/53/EU), RoHS 2 (2011/65/EU), ErP (2009/125/EC)
With Qubino you get innovative top-quality products
and the best customer service